Selkirk Mountain Experience 2010
Lössnöparadis!

Definitivt en av min bästa skidveckor någonsin – 7 dagar toppturer i kanadensiska Selkirkmassivet, nära Revelstoke i British Columbia.
Vi bodde på Durrand Chalet – Ruedi och Nicoline Beglingers rustika, schweiziska världshus på nästan 2000 meters höjd, många, många mil från närmaste väg. Hit finns inte ens en stig – man måste flyga hit med helikopter, över otaliga vassa 3000-meterstoppar och glaciärer, för att landa precis vid trädgränsen där Ruedi med bergsguider och familj väntar. Och äventyren...:-)
Platsen är fantastisk – ren vildmark och otaliga glaciärer, imponerande bergsmassiv, höga platåer, vrålbranta fjällsidor och respektinjagande isfall. Och snö... Selkirk är känt för att få ovanligt mycket snö – normalt faller ca 30 meter (100 fot) snö varje vinter! När vi var där i början på april var det över 6 meter djupt med snö på glaciärerna och över 3 meter snö i de branta skogsluttningarna. Och snön är generellt torr och fluffig. Mmmmmmm.... !
Och inte är det många att slåss om den orörda snön med heller. Ruedi har ensam rätt att guida på ett enormt stort område och melodin är hederlig topptur, dvs man tar sig fram på skidor eller splitboard för egen maskin med stighudar. 12 personer på ett område som är tre gånger större än hela Whistler, Nordamerikas största skidområde. Garanterat puder och garanterat ospårat och orörd snö. Alltid!
Det kan förstås inte bli annat än helt fantastiskt. En av mina bästa skidveckor, definitivt mest och bäst lössnöåkning jag varit med om, och supertrevlig grupp. Livet är enkelt i bergen – om än lite svettigt då och då: upp klockan 6.30. Stor Schweitzisk frukost. Fixa gedigen lunchpacke och fylla på med ordentligt med vatten. Packa ABS-ryggsäckarna (som ingår) och kolla om det är stighudar av eller på som gäller. Är det en klar dag är oddsen stora att det är stighudar av – och några timmar av uppåtgång innan dagens första åk; är det ordenlilgt snöfall, blåst och dålig sikt börjar man med stighudar av och ett 800-1000 m brant lössnöåk rakt ner i skogen, direkt från terassen som uppvärmning.
Till skillnad från t.ex. toppturer i Norge där det oftast blir en stor topp per dag – upp, upp, upp och så ner – går man i cirkel här; upp för en topp kanske 700 meter, ner, på med hudar igen och upp till en annan topp, över en annan glaciär, ner 800 m, upp igen och ner 500 meter. Typ... faktiskt riktigt kul med variationen och lekfullheten. Och så blir man riktigt, riktigt snabb på att ta av och sätta på stighudar!
I genomsnitt 1500-2000 meters klättring per dag. Rätt högt tempo, men inget omänskligt. Ruedi är outtröttlig och kan gå hur långt och fort som helst (han går ca 330 000 höjdmeter – 1 miljon fot – varje skidsäsong!). Är gruppen pigg går det undan. Är den inte pigg går det ändå fort för Ruedi som ofta drar iväg och hinner med att göra en ordentlig snögrop för att kolla lavinfaran under tiden de övriga kommer ikapp. Lunchen går fort. Det är Schweizisk effektivitet som gäller – vi gick iväg kl 7.50 varje morgon, exakt på minuten. Lite ovant först, men också rätt skönt.
Och när man är tillbaka i huset och brasan på eftermiddagen är det fullt slappläge... nybakad äppelkaka som väntar, te och kaffe och kall öl. En nytänd, vedeldad bastu, och doften av en trerätters middag som håller på att tillagas... och en helt oslagbar utsikt åt alla håll där man, om man anstränger sig, kanske kan se några ensamma skidspår
Powder paradise!
Easily one of my best ski weeks ever – seven days of backcountry skiing in the Canadian Selkirk mountains, close to Revelstoke, British Columbia.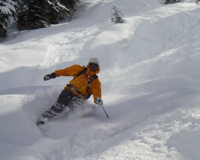 We stayed at Durrand Chalet – Ruedi and Nicoline Beglinger's nice Swiss-style guest house at almost 6000 feet, many, many, many miles away from closest road. There aren't even any trails that leads to the Chalet – one has to travel with helicopter to reach the place, passing loads of 3000 meter peaks and endless glaciers before landing right at the border between trees and open mountain. Here Ruedi and his mountain guides wait – as do the adventures...
The place is fantastic – pure wilderness and glaciers, impressive mountains and peaks, high plateaus, steep cliffs and huge ice falls. And snow...! Selkirk is knows for getting record amounts of snow – normally around 30m (100 feet) of snow each winter. When we were there in the beginning of April there was more than 6 meter of snow on the glaciers, and more than three meters in the steep forests. And not only loads of snow – it's nicely dry and fluffy too! And we got a meter of new fresh powder as a bonus during our week.
And on top of this hardly anyone to fight with for the powder. Ruedi has exclusive right to guide in a huge area, and does so only by skiiing, i.e with skins while climbing the peaks on skis or splitboard. Twelve persons in an area that is three times larger than the whole of Whistler, North America's largest ski area. Powder and fresh tracks are 100% guaranteed.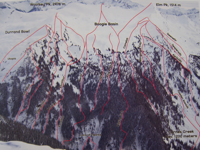 Taken all this together, a week at Selkirk can of course hardly be anything but fantastic. Definitely the most and best powder skiing I've ever experienced. Add to this a great group of nice people as company! However, it's also a week of quite some labour! You get up at 6.30 in the morning and start the day with a big, hearty Swiss breakfast, and make yourself a couple of big sandwiches. Pack the ABS-backbacks (which are provided) and then check whether it's skins "on" or "off"... If it's a clear day, the likelihood is skins "on" and a few hours of climbing before the first run of the day. If it snows a lot and it's bad visibility, you start with skins "off" and take off from the porch straight down an 800-1000 m steep run in the woods.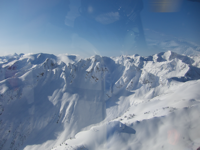 Contrary to mountain skiing in Sweden and Norway, where one usually does one peak a day – up, up, up and then finally that one run down – at Selkirk one moves in a circle, You may for example first climb one peak to then ski down perhaps 700 meters, put on the skins again and climb another peak, ski down, cross a glacier, ski down 800 meters, up again, and then finally a 500 meter run down to the Chalet many hours later. Or any other of the endless variations... Great fun and exciting! And – you get really fast at putting on and removing skins!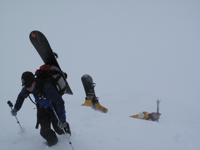 On average one climbs 1500-2000 meters each day. Relatively fast pace, but not inhuman. Ruedi has no limits and can go on forever (he apparently climbs about 1 million feet (330 000 meters) on skis each year!). So, if the group is in good shape it can keep a high speed. If it's not so fast, Ruedi still takes off every now and then to start making a snow pit to check the avalance risk while the rest of the group catches up. Lunch is quick – Swiss efficiency! We left at 7.50 every morning, exactly. Not one minute late. A bit unusual at first with such discipline, but also quite nice. No endless waiting for latecomers and you get lots of skiing...
And once back at the Chalet and the fireplace in the afternoon once has plenty of opportunity to just relax and hang out. Freshly baked apple pie, cookies, tea, coffee, cold beer are waiting for the tired skiers as is a wood-fired sauna. And a few hours later a great three-course meal.
Life is easy at Durrand Chalet – and the views are magnificent. Untouched slopes in all directions – apart from our few lonely ski tracks which may soon be gone after the next dump of fresh powder